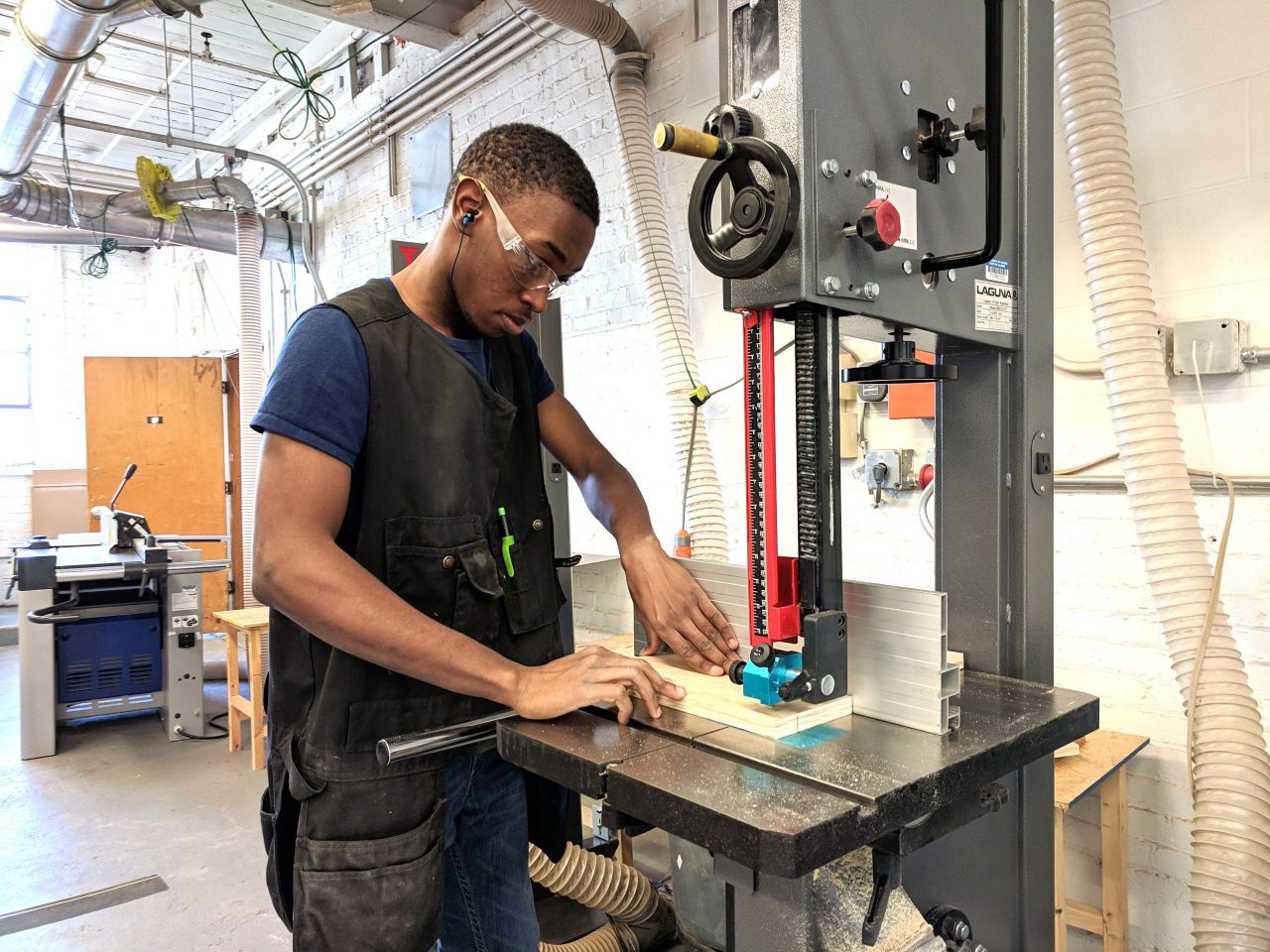 During COVID-19, students are responsible for bringing their own Personal Protective Equipment (PPE). Standard PPE during the pandemic will be safety glasses/goggles, N95 masks or an approved medical mask, and work gloves.
The Woodshop is available for student, staff, and faculty use once the mandatory Tier 1 training is complete. All other training is optional but strongly encouraged. Sign-up sheets for the various training tiers are located inside the entrance to the Woodshop.
Policies, procedures, and/or availabilities may change depending upon campus and State of Illinois COVID policy changes or updates.
Woodshop Hours (Spring 2021 Pandemic Hours)
All visits to the Woodshop during non-walk-in hours are by appointment only. Please contact Lowell Miller via email at lrmiller@illinois.edu to schedule appointments and training.
Walk-in hours
Tuesday: 1pm-5pm
Thursday: 1pm-5pm
Appointment-only hours
Monday: 12pm-5pm & 5pm-9pm
Tuesday: 9am-12pm & 5pm-9pm
Wednesday: 12pm-5pm & 5pm-9pm
Thursday: 9am-12pm & 5pm-9pm
Friday: 12pm-5pm
Saturday: 12pm-5pm
Sunday: 12pm-5pm
Equipment and Tools
Felder AD941 16″ jointer/planer
SawStop 3HP Industrial table saw
Laguna 14SUV 3HP bandsaw, Laguna 14BX bandsaws, Jet bandsaw
Laguna 1836 2HP lathe, Jet 1221 lathe
Nova DVR 1.75HP Digital drill press, Jet drill press
General Tools mortise
Jet belt/disc sander
Rigid oscillating spindle sander
Supermax drum sander
Festool Power tools (TS 55 track saw, TS 75 track saw, Kapex miter saw, ETS 125 sanders, ETS EC 125 sanders, RO90 sander, RO125 sander, DF500 loose tenon joiner, DF700 loose tenon joiner)
Fein FMM 350 Multimaster tool
GRIT automatic blast gate system
Lucas Mill 8-30 w/ slabbing attachment
Husqvarna 20″ chainsaw (2)
Industrial Nyle systems wood kiln
Bosch and Ryobi battery powered drills
Chisels, mortise chisels, hand planes, and other hand tools
For all questions regarding the Woodshop, and to make an appointment, please contact Lowell Miller.