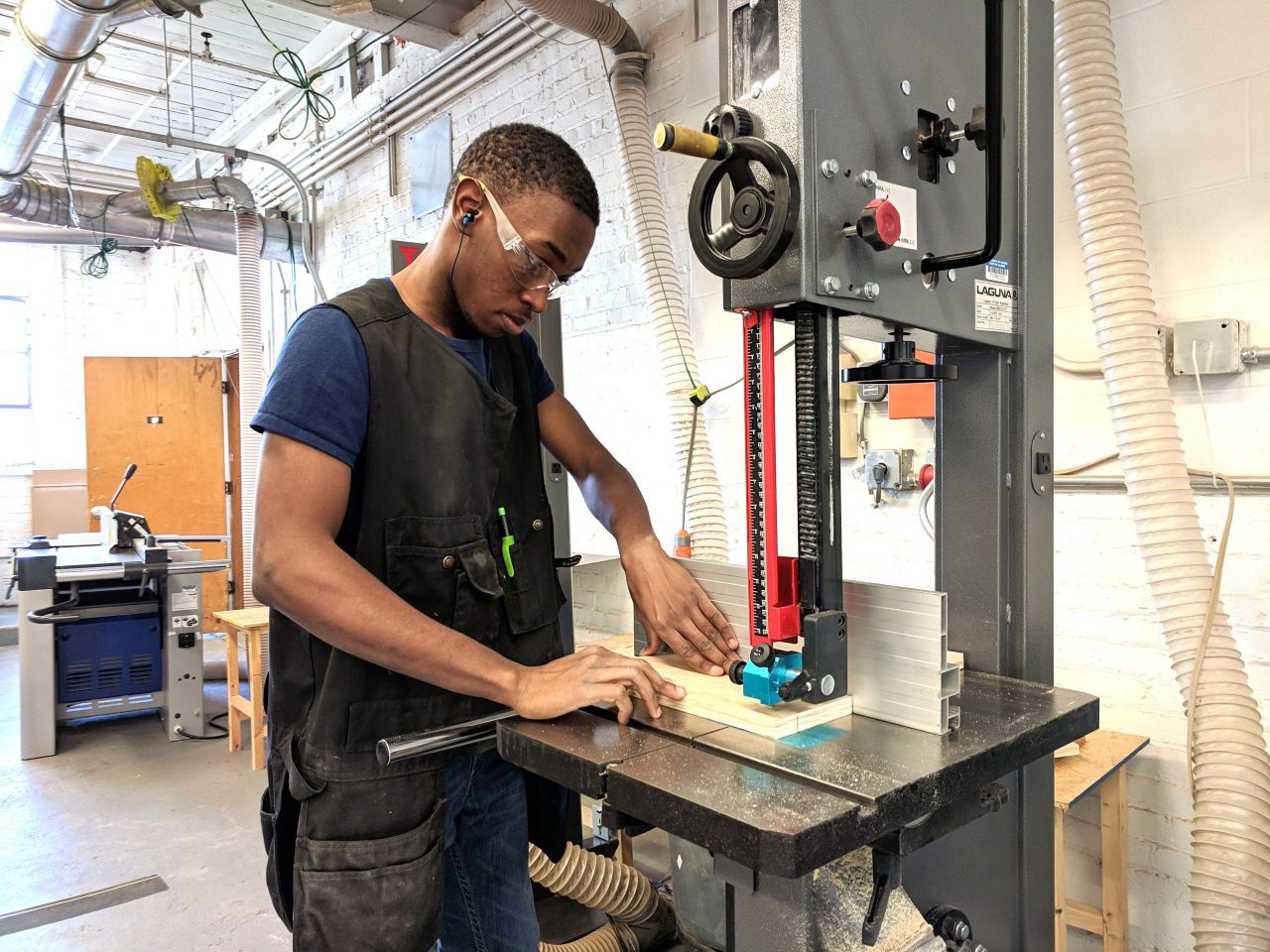 Woodshop text
Woodshop Open Hours Fall 2023 (Open from 8/21/23-12/15/23)
Monday: 9am-12pm & 1pm-9pm
Tuesday: 9am-12pm & 1pm-9pm
Wednesday: 9am-12pm & 1pm-9pm
Thursday: 9am-12pm & 1pm-9pm
Friday: 9am-12pm & 1pm-5pm
Saturday: 12pm-5pm
Sunday: 12pm-5pm
During COVID-19, students are responsible for bringing their own Personal Protective Equipment (PPE). Standard PPE during the pandemic will be safety glasses/goggles, N95 masks or an approved medical mask, and work gloves.
Mandatory shop dress is listed in the ISoA Fabrication Shops Facilities Manual.
The Woodshop is available for Architecture students, staff, and faculty use once the mandatory Tier 1 training is complete. All other training is optional but strongly encouraged.  Online sign-up through SignUp genius is linked below for Tier 1 training.
Policies, procedures, and/or availabilities may change depending upon campus and State of Illinois COVID policy changes or updates.
Equipment and Tools
Tier 1 tools (Woodshop)

Laguna 14BX bandsaw (2)
Jet bandsaw
Jet drill press
Bosch and Ryobi hand drills
Bench chisels
Jet belt/disc sander
Rigid oscillating spindle sander
Festool ETS 125 sander
Pull saws
Dewalt Scrollsaw

Tier 2 tools (Woodshop)

Nova DVR 1.75HP Digital drill press
General Tools mortiser
Supermax drum sander
Festool TS 55 track saw
Festool TS 75 track saw
Festool Kapex miter saw
Festool ETS EC 125 sander (2)
Fein FMM 350 Multimaster oscillating tool
Mortise chisels
Hand planes

Tier 3 tools (Woodshop)

Felder AD941 16″ jointer/planer
SawStop 3HP Industrial table saw
Laguna 14SUV 3HP bandsaw
Laguna 1836 2HP lathe
Jet 1221 lathe
Dewalt trim router
Festool OF1400 router
Router table
Shaper Origin handheld CNC
Festool RO90 sander
Festool RO125 sander
Festool DF500 loose tenon joiner
Festool DF700 loose tenon joiner
Power grinder

Tier 4 tools (Fabrication Shop)

Lucas Mill 8-30 w/ slabbing attachment
Hobart Handler 140 MIG welder
Langmuir Systems Crossfire CNC plasma cutter
Husqvarna 20″ chainsaw (2)
Wazer Desktop waterjet
Onsrud CNC
Formech Vacuum Former
Mag Drill
Lotos plasma cutter

Auxiliary Systems

GRIT RFID automatic blast gate system
Supermax Air cleaners
Dantherm dust collection systems
Laguna dust collector
For all questions regarding the Fabrication Shops please contact Lowell Miller.