About Joseph Altshuler
Joseph Altshuler
Joseph Altshuler is cofounder of Could Be Architecture, a Chicago-based design practice, and an Assistant Professor in the School of Architecture. He is also the director of the Architectural Companionship Laboratory, a design research lab that works at the intersection of architecture, public art, environmental graphics, adaptive reuse, and tactical urbanism. His teaching, practice, and scholarship explore architecture's capacity to build lively audiences, initiate serious play, and amplify participation in civic life.
Could Be Architecture's work has been exhibited at Art Basel | Miami Art Week, the Milwaukee Art Museum, the Elmhurst Art Museum, the Detroit Month of Design, and the Chicago Architecture Biennial. In 2022, Could Be Architecture was spotlighted in Metropolis magazine's "New Talent" feature and named #15 in Newcity magazine's Design 50: The Fifty People Who Shape Chicago. The practice was also featured in Architect magazine's "Next Progressives" series.
Joseph's first book, Creatures Are Stirring: A Guide to Architectural Companionship (Applied Research and Design Publishing, 2022), prompts readers to develop more intimate friendships with architectural companions through a collection of essays, flash fictions, and case studies that illustrate solidarity among humans, nonhumans, buildings, interiors, and the broader environment. Joseph has authored book chapters and contributed essays to a wide range of international publications, and he is the editor-in-chief of SOILED, a periodical of architectural storytelling positioned between a literary journal and a design magazine.
Education
Master of Architecture, Rice University (2015)
Bachelor of Science in Architectural Studies, University of Illinois at Urbana-Champaign (2009)
Research and publications
Ongoing and upcoming research
Current Projects
Supergraphic Landscapes
Joseph is co-PI for the design research project Supergraphic Landscapes, which was recently awarded by the Office of the Vice Chancellor for Diversity, Equity, and Inclusion's Call to Action to Address Racism & Social Injustice Research Program 2022–23. Supergraphic Landscapes is an interdisciplinary project at the intersection of architecture, graphic design, and landscape architecture that explores the role of urban-scaled graphics and creative placemaking techniques to rescript the built environment and envision alternative spatial futures. Challenging the industry's term "environmental graphics," Supergraphic Landscapes pushes the power of graphics beyond information (wayfinding) and into realms of space, place, and community-building (worldmaking).
Chicago Sukkah Design Festival
Joseph is the founder and Artistic Director of the Chicago Sukkah Design Festival, a public program and community celebration that elevates the Jewish custom of sukkah construction to empower neighbors to collaboratively imagine alternative futures. The Festival amplifies cross-cultural celebration and social justice by initiating meaningful design collaborations among diverse designers and social service organizations in the Chicago's North Lawndale neighborhood. In inaugural Festival launches in October 2022 and features 3 collaborative sukkah design/build teams.
Animate Architecture
This body of creative work explores how to build and diversify new audiences for architecture by importing live performance techniques other cultural practices that are particularly adept at engaging spectators and fans, such as theater, performance art, and puppetry. In 2021, the Chicago Architecture Biennial commissioned Joseph's practice Could Be Architecture to create a video mini-series entitled Animate Architecture: The Stumbling Stairs. Each episode features a puppet performance or animation that propels familiar architectural "characters" into lively locomotion, telling new stories about the built environment while entertaining audiences of all ages.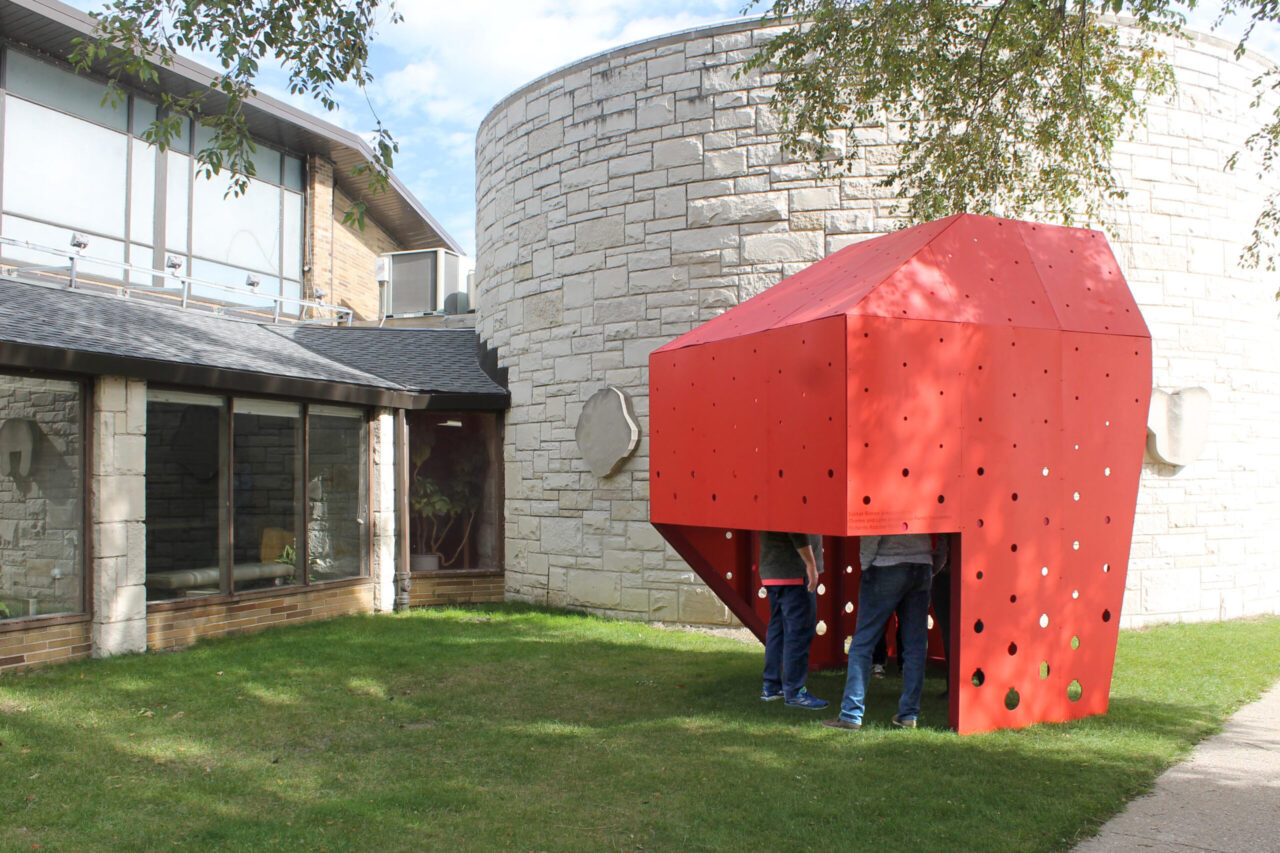 Selected publications
Books
Altshuler, Joseph and Sedlock, Julia, Creatures Are Stirring: A Guide to Architectural Companionship (Applied Research and Design Publishing, 2022).
Book Chapters
Altshuler, Joseph and Sedlock, Julia. "Intimate Inhabitation: Toward an Intercourse of Creaturely Urbanism," ed. Gregory Marinic, Interior Urbanism Theory Reader (Routledge, 2022). Forthcoming.
Altshuler, Joseph and Sedlock, Julia, "Creaturely Plans: Reorienting Ground and Subject" eds. Martin Søberg, Anna Hougaard. The Artful Plan: Architectural Drawing Reconfigured, (Birkhäuser, 2020): 276–295.
Altshuler, Joseph and Sedlock, Julia, "Creatures Afield: Drawing the Dioramatic Caricature," eds. Laura Allen, Luke Caspar Pearson. Drawing Futures, (London: UCL Press, 2016): 162–168.
Articles
Altshuler, Joseph and Morrison, Zack. "Architecture Performing Live," MAS Context #33 (Chicago: MAS Studio, 2021): 30–51.
Altshuler, Joseph. "Op Ed: The Thompson Center: a Retrospective from the Future," Chicago Tribune (June 4, 2021).
Altshuler, Joseph. "Character Plotting," MAS Context #32 (Chicago: MAS Studio, 2020): 68–77.