About Isabella Hillman
Hillman
Isabella Hillman is a Teaching Assistant Professor at the University of Illinois. Her teaching and scholarship examine and focus on Visual Representation, Graphic Design, Design and Biomimicry. She works as a licensed architect collaborating and consulting on architectural competitions nationally and internationally with various firms and designers. Currently, she is a partner at RSVP Architects.
Education
M.Arch, University of Puerto Rico, School of Architecture (2021)
Bachelor in Environmental Design, University of Puerto Rico, School of Architecture (2019)
Research and publications
Ongoing and upcoming research
Hillman
Biomimicry: a solution to opposing forces?
Due to Earth's global temperature increase, natural disasters have become more substantial and recurrent in the last two decades. The island of Puerto Rico is threatened by two types of recurrent natural disasters: hurricanes and earthquakes. These phenomena negatively affect a building's structural integrity in different ways: a storm is likely to negatively impact a more flexible architectural structure and an earthquake a more rigid one. These opposing demands on buildings require architects to design structures to be resistant to high wind loads or seismic loads, but not always both. To solve this problem, I will seek answers through the concept of biomimicry. This design solution mimics nature as a resilient system that has evolved for more than 3.8 billion years. The Challenge to Biology Design Spiral by Carl Hastritch will be used as the primary resource to identify and translate natural models whose function resolves the design problem. First, a series of design objectives and procedures will be enumerated, documented, and analyzed. Those criteria, along with data compiled through the investigation, will be utilized to consult local biologists to help identify an endemic natural entity, whose functions meet the requirements analyzed in the first stage. Lastly, the biological model's process to resist both phenomena will be mimicked and applied to the architectural design of a school, whose objectives are to resist the disaster and serve as shelter days after emergency events in Puerto Rico.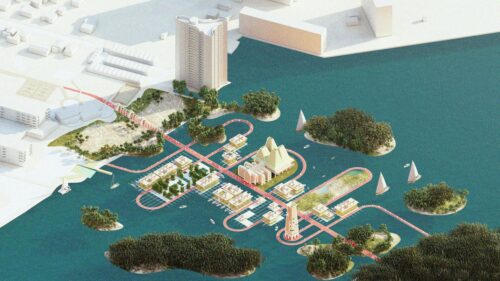 Hillman
Competition: Little Lakay/Little Home
Director's Choice Winner for the Miami Floating Housing Competition
In collaboration with designer Claudia Crespo
Little Haiti and Little River are long-established communities of rich Caribbean culture in inland Miami, now the most coveted territory for luxury development due to climate change. This phenomenon places at risk the colors, flavors and culture of the people who built the community decades ago from nothing. Many Haitians were forced to leave their home country looking for a better quality of life due to the catastrophic earthquakes that hit the island and the political issues the country was undergoing. Since then, the 1980s marks an important date for the influx of Haitians, in which part of inland Miami begins to fill with life and color represented through Haitian architectural typologies, like the Gingerbread style. The Gingerbread style is an iconic architectural colonial style commonly used in Haiti. At first, the architectural style used to have a negative connotation, as it was seen as colonialist and elitist, but after the great earthquakes these structures proved to resist the damage, and so now for Haitians this architecture has become a symbol of their identity and rebuilding their country.
For the design of Little Lakay, the Gingerbread style and culture of Little Haiti were the main source of inspiration. The project is composed of a floating path that connects the community to Legion Park and Picnic islands. Throughout the weaving path, a series of nodes are implemented to act as social and cultural spaces for the community. These spaces include the entry portal, agricultural center, leisure parks, civic center, and a watch tower that frames the most prominent views of the contrast between Miami's high-rise development and the Caribbean-influenced community.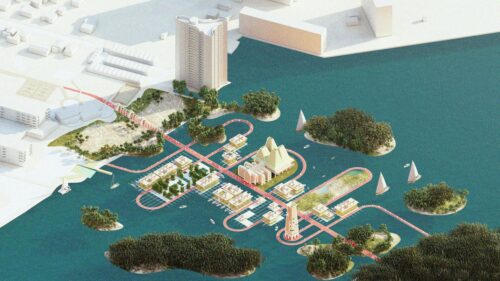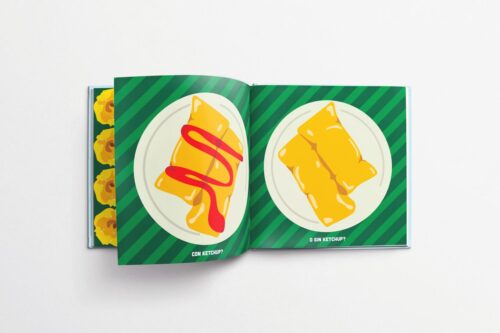 Hillman
Puerto Rico Graphic
In collaboration with designer Claudia Crespo
This pictorial book has an objective to graphically express what is it like to be Puerto Rican and live in the tropical island. Through a series of graphical images, one is transported through diverse situations that have immense cultural significance to Puerto Ricans and for someone living abroad, reminds them of home. From piragüas to tostones to reggaeton the book features graphics that express what words really mean and how does it compare to other places around the world. This research will end in creating a square "coffee table" book that reminds the designer of home.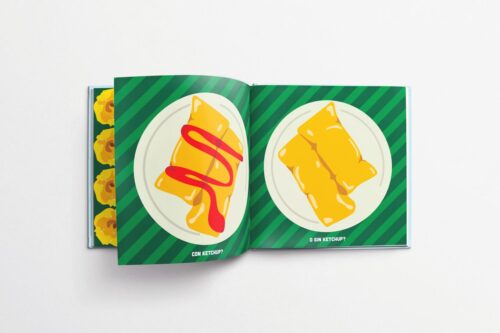 Teaching and advising
Classes taught
ARCH 371: Architectural Design and Urbanism
ARCH 474: Architectural Design and Making
ARCH 401: Visual Representation and Communication Design
ARCH 273: Strategies of Architectural Design
ARCH 574: Venice Studio
ARCH 101: Introduction to Architecture