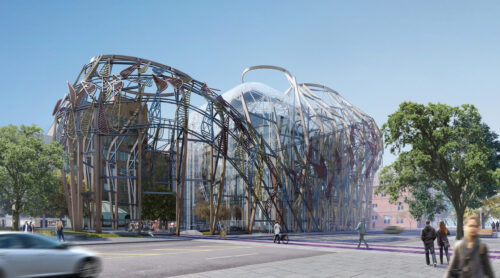 Wanda Dalla Costa
This is a Max Abramovitz Endowed Lecture
Illinois Ricker Library has pulled together some publications and videos on our lecture guest. Please visit this link to view.
Wanda Dalla Costa, AIA, OAA, AAA, LEED A.P. is a member of the Saddle Lake Cree Nation. She is also a mom, a practicing architect and a professor. Dalla Costa was honored in 2019 by the Yerba Buena Center for the Arts, added to the YBCA 100, a list which celebrates people, organizations, and movements shifting culture through ideas, their art, and their activism. At Arizona State University, she is the director and founder of the Indigenous Design Collaborative, a community-driven design and construction program, which brings together tribal community members, industry and a multidisciplinary team of ASU students and faculty to co-design and co-develop solutions for tribal communities. Her teaching and research is focused on Indigenous ways of knowing and being, co-design methodologies, sustainable design, and the resiliency of vernacular architectures.
In terms of her practice, Dalla Costa was the first, First Nation women to become an architect in Canada. Her firm, Tawaw Architectural Collective (www.TawArc.com) is based in Phoenix, Arizona. Recent projects include the Indigenous embassy in Ottawa, an Indigenous urban early learning center in Saskatoon and a tribal college in Alberta. Dalla Costa was also invited to he 2018 Venice Biennale, world festival in architecture, as part of Unceded, where she joined 18 Indigenous architects from across Turtle Island, to share an Indigenous vision of the future. Dalla Costa holds a Master of Design Research in City Design from SCI-Arc in Los Angeles, and a Master of Architecture from the University of Calgary.