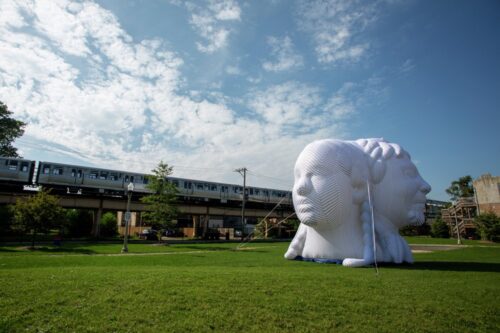 bio
Join us for a public lecture on Thursday, February 16 at 6:00pm in Plym Auditorium (Temple Hoyne Buell Hall) and/or a participatory workshop on Friday, February 17, from 12:00–4:00pm in the Link Gallery (Krannert Art Museum) with the Floating Museum. The workshop is free and requires registration. This lectureship is supported by the Lorado Taft Lectureship on Art Fund/College of Fine & Applied Arts and the Black on Black on Black on Black exhibition at the Krannert Art Museum.
Floating Museum is an art collective that creates new models: exploring relationships between art, community, architecture, and public institutions. Using site-responsive art, design, and programming they explore the potential in these relationships, considering the infrastructure, history, and aesthetics of a space. This event will include 3 members of the Floating Museum: Jeremiah Hulsebos-Spofford, Andrew Schachman, and avery r. young. 
Jeremiah Hulsebos-Spofford is a visual artist and assistant professor of sculpture at Indiana University Northwest. He is also a co-director and founder of the collective Floating Museum. His work has been shown at the American Academy of Arts and Letters, The UCSD Art Gallery, The Glass Curtain Gallery, and The Hyde Park Art Center, among other spaces. He has held fellowships at the Sculpture Space, the MacDowell Colony, Vermont Studio Center, the Brown Foundation Program at the Dora Maar House, and the Skowhegan School of Sculpture and Painting. His work has been supported by grants from the Foundation for Contemporary Arts, the Harpo Foundation, the Propeller Fund, the Chauncey and Marion Deering McCormick Foundation, an Illinois Arts Council Fellowship, and a Fulbright Fellowship in Sicily.  
Andrew Schachman designs environments, infrastructures, and installations. He is the executive co-director of two organizations that are experimental spaces for delivering arts and culture within existing metropolitan networks: Floating Museum and Fieldwork Collaborative Projects. Trained as an architect, he designed and managed projects for the offices of Zaha Hadid, Perkins and Will, Carol Ross Barney, and Doug Garofalo. His projects have received numerous awards, including the Distinguished Building Award from the American Institute of Architects and the Richard H. Driehaus Foundation Award for Architectural Excellence in Community Design. As Principal of Studio Andrew Schachman, he completed the design for the Palais de Tokyo's exhibition, Singing Stones, in the roundhouse of the DuSable Museum of African American History in Chicago. Schachman is a lecturer in urban design at the University of Chicago.  
avery r. young is best known as a poet, songwriter, and performer, multi-disciplinary artist. avery r. young is also an award-winning teaching artist who mentors youths in the crafts of creative writing and theater. He has been an Arts and Public Life Artist-In-Residence at the University of Chicago and has written curriculum for Columbia College Chicago, Young Leeds Authors, True Star Magazine, and Chicago Public Schools Art Integration Department. young's poems and essays on HIV awareness, misogyny, race records, and art integration have been published in The BreakBeat Poets, The Golden Shovel Anthology: New Poems Honoring Gwendolyn Brooks, AIMPrint, and other anthologies.
If you require an accessibility accommodation(s) to participate in this event, please contact lecture host Joseph Altshuler (jshuler@illinois.edu)