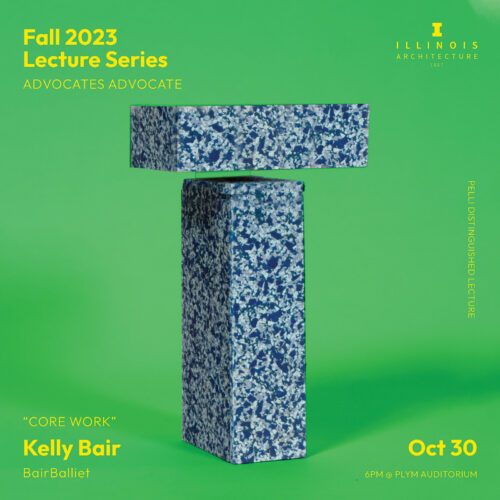 Kelly Bair
Kelly Bair is Partner at BairBalliet and an Associate Professor at the University of Illinois at Chicago's School of Architecture. Bair has also taught in Los Angeles at UCLA, SCI-Arc, and Woodbury University. She brings over two decades of experience in the architectural profession working as a project designer at various firms such as Brooks+Scarpa, Greg Lynn Form and Gnuform (Heather Roberge & Jason Payne). Bair holds a Bachelor of Environmental Design from University of Colorado and a Master's in Architecture from the UCLA Department of Architecture and Urban Design. Bair is also co-founder of Possible Mediums, a project interested in shaking up the context and format in which architecture is taught, produced, and engaged through conferences, workshops, exhibitions, dinner parties and in its final form, a book.
BairBalliet is a design venture based in Chicago and Los Angeles. Specializing in graphics, objects, interiors, and buildings, BairBalliet choreographs the conceptual, experiential and technical aspects of architecture through both speculative and built projects. BairBalliet has been published in Architect's Newspaper, Log Journal, Art Papers, Fresh Meat, Room One Thousand, Arch Daily and Archinect among others. BairBalliet's work has been exhibited internationally in the 2016 Venice Architecture Biennale (Venice, Italy), the Frac Centre (Orleans, France) and Centre de design de l'UQAM (Montreal). Their work has been exhibited across the United States at Modern Museum of Art MoMA (New York), The Architecture & Design Museum & the SCI-Arc Gallery (Los Angeles), Museum of Contemporary Art (Detroit), Chicago Cultural Center (Chicago) and Carnegie Museum of Art (Pittsburgh) among others. In 2018, they were named a finalist for the 2018 MoMA PS1 Young Architects Program.
This lecture is supported by the Pelli Distinguished Lectureship.